Super Moderator
Super Moderator
Premium Supporter
Way back in the 90's, The Adam and Joe show was one of the best things on t.v. It was the perfect blend of childhood nostalgia, humour and pop culture. Later moving onto BBC 6 Music and XFM, the pair have become somewhat cult heroes here in the U.K. While Adam Buxton has now gone onto create possibly the best podcast currently on air, Joe Cornish moved into films. His first being 2011's Attack the Block! Now, 10 years on from its release, there are rumblings of Joe Cornish and the film's break out star, John Boyega, re-teaming for a much deserved sequel!
In the meantime, we have the absolute honour of releasing this truly stunning screen print poster from artist Tracie Ching. Tracie is one of our favourite working artists and we have wanted to work with her for a while. We were thrilled when she picked Attack the Block as a topic and completely nailed it with this release.
Capturing the intimidating glare of Boyega's Moses, this screen print was produced by the excellent The Half and Half, who packed it with neon inks. The regular is on black paper while the variant is on Mirri Black Foil. Both look truly amazing.
As part of this release we will also be offering bundles with Florey's Attack the Block pin for just an additional £5!

Attack the Block by Tracie Ching will be available from Vice Press at 6pm BST on Tuesday the 30th of March.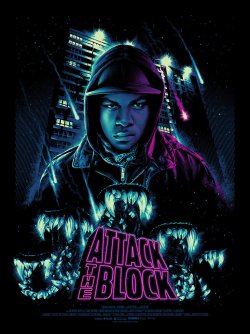 Attack the Block (Regular) by Tracie Ching
Edition size: 125
Size: 18x24 inches
Medium: Hand numbered 5 colour screen print with neon inks.
Printed on Neenah epic black paper by The Half and Half
£39.99/ £44.99 with pin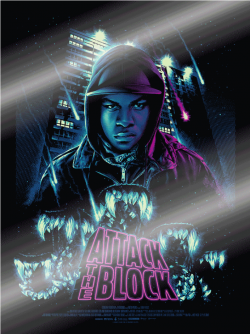 Attack the Block Foil Variant by Tracie Ching
Edition size: 75
Size: 18x24 inches
Medium: Hand numbered 5 colour screen print with neon inks.
Printed on Miri Black foil paper by The Half and Half.
£44.99/ £49.99 with pin