Super Moderator
Super Moderator
Premium Supporter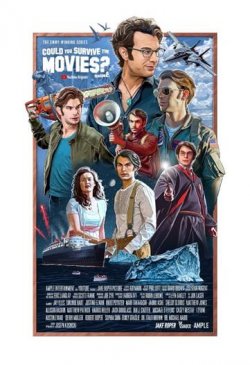 YouTube Originals today premiered the second season of the Daytime Emmy-winning series "
Could You Survive The Movies?
". Hosted by YouTube Creator
Jake Roper
and produced by AMPLE Entertainment the learning series is dedicated to exploring the magic and science of cinema's most iconic pop culture films. Episode one,
Could You Survive TOP GUN?,
is now available to stream for free only on the
Vsauce3 YouTube channel
, with new episodes dropping weekly. YouTube Premium subscribers have access to the entire six-episode season starting today, as well as bonus footage from the season opening Top Gun episode featuring a 360-VR perspective throughout Jake Roper's flight with the Blue Angels.
Season two of "Could You Survive The Movies?" once again features Jake Roper of the
VSauce3 channel
(3.96M Subscribers) as he tackles the science behind iconic motion pictures such as the magic of "
Harry Potter
," the g-force jet aerobatics in "
Top Gun
," the carnivorous dinosaurs in "
Jurassic Park
," the power of water in "
Titanic
," the science of sound and acoustics behind "
A Quiet Place
," and more. Across the six episode series, Jake and his team of EduTubers dive into these worlds through immersive recreations that blend unscripted scientific exploration with narrative storytelling. Each mind-blowing experiment transports viewers and investigates the science of their favorite films, all while attempting to answer the important question: could you survive the movies?