Super Moderator
Super Moderator
Premium Supporter
Sleeping Beauty Screen-Prints by Tom Whalen
Here is one print release you WON'T want to sleep through! (<----sorry we couldn't resist.) Seriously though, these have to be two of the most insanely beautiful print designs we've ever dropped, and we are beyond thrilled to collaborate once again with the legendary Tom Whalen.
The best part is we have a definitive answer on the burning questions that Sleeping Beauty fans have asked for years: Aurora in the pink dress or blue dress? Maleficent as a fire breathing dragon, or the cold and calculating fairy with a wicked grudge? The decision was left to Tom Whalen himself, who sets the record straight below:
"Sleeping Beauty has been on my short list of Disney films for quite a while and it's great to finally have the opportunity to create a screenprint for this all-time classic! For me, the appeal for this one boils down to one thing: a fantastic (maybe the best?) Disney villain who has two distinct, hissably evil looks. Which one to tackle for the print? Both, of course!"
These screen-prints will be available to the general public tomorrow at 10AM
Officially licensed Disney screenprint, serigraph, poster artwork
cyclopsprintworks.com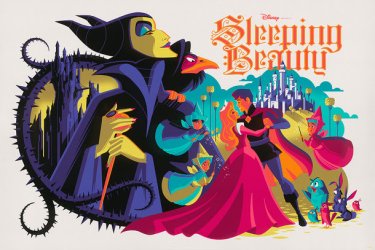 "Sleeping Beauty" by Tom Whalen
Screen-Print | 24 x 36 | Limited Edition 250
Hand-Numbered | 14 colors | Curious Metallics Ice Silver Paper | Varnish | Authenticity Seal
$70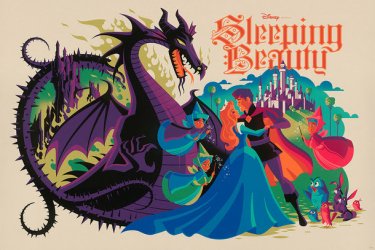 "Sleeping Beauty" [Variant] by Tom Whalen
Screen-Print | 24 x 36 | Limited Edition 160
Hand-Numbered | 15 colors | Stardream Metallic Opal Paper | Varnish | Authenticity Seal
$90