Super Moderator
Super Moderator
Premium Supporter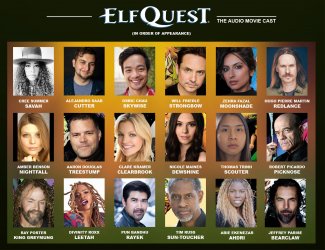 Tim Russ (
Star Trek: Voyager
), Will Friedle (
DC Super Hero Girls, Transformers: Robots in Disguise, Guardians of the Galaxy, Kimpossible
), Amber Benson (
Buffy the Vampire Slayer
), Clare Kramer (
Buffy the Vampire Slayer,
Bring It On)
, Nicole Maines (
Supergirl
), Robert Picardo (
Star Trek: Voyager
) have joined the cast of
ElfQuest: The Audio Movie
which is currently in production in Los Angeles, New York, and Maine. Picardo will be playing Picknose, and Friedle as Strongbow. Russ has been cast as Sun-Toucher, Benson will play Nightfall, with Maines as Dewshine, and Kramer as Clearbrook.
ElfQuest: The Audio Movie is
expected to release in 2022.
ElfQuest: The Audio Movie
, a cinematic audio adaptation of the hit fantasy comic books, features the previously announced stars: Cree Summer (
Rugrats, Atlantis: The Lost Empire, Masters of The Universe: Revelation
), Alejandro Saab (
Pokemon
,
Dragonball Legends
), Divinity Roxx (Grammy-nominated musician, spoken word artist, and composer), Osric Chau (
Supernatural
,
Dirk Gently's Holistic Detective Agency
), and Pun Bandhu (
Law and Order
,
Orange is the New Black
).
Fans will appreciate that Yasha Jackson (
The Flight Attendant
), Abie Ekenezar (
ZEEK the Martian Geek
), Jeffrey Vincent Parise (
Supernatural, The Young and the Restless
), Zehra Fazal (
Big Hero 6: The Series, F#@K I Love U
), Hugo Pierre Martin (
Shin Megami Tensei III: Nocturne HD Remaster
), Aaron Douglas (
Van Helsing, Battlestar Galactica
), Clare Kramer (
Buffy the Vampire Slayer
,
Bring It On
, and host of
Quoting Gene Roddenberry Podcast)
, Jonathan M. Woodward (
Buffy, Angel, Firefly
), Thomas Trinh (
The Eye
), and Ray Porter (
Zack Snyder's Justice League, Shameless
) have also been added to the cast.
ElfQuest
has been independently published since 1978, and the audio movie is funded by the franchise's significant fanbase. The successful Kickstarter campaign wraps up on June 25, 2021. The fan supported model means that
ElfQuest: The Audio Movie
will be widely available across many podcast channels, bucking a current trend toward platform exclusivity.
ElfQuest: The Audio Movie
will be directed and produced by audio drama pioneer Fred Greenhalgh (
Locke & Key
,
The X-Files: Cold Cases
,
The Dark Tome
), and co-produced with Jonathan Woodward (HBO's
Wit
,
Buffy
,
Angel
,
Firefly
), with creators Richard and Wendy Pini serving as executive producers. The audio movie will be made in association with The Fantasy Network (
Mythica
,
JourneyQuest
,
The Rangers
) and K4 Media. Casting by Stephanie Klapper Casting, NYC.
Follow us at:
Facebook:
Log into Facebook
Instagram
:
Login • Instagram
Twitter
:
https://twitter.com/elfquest
Web
:
Elfquest