Super Moderator
Super Moderator
Premium Supporter
Greetings everyone! We have a fun assortment of goodies for you this week. We love the idea of a good team-up, so it pleases us to be releasing 2 of our favorite Marvel Super-Heroes featured on their respective covers by two artists we admire greatly! First up is Miles Morales: Spider-Man #7 with cover art by none other than Concept Artist and Illustrator,
Patrick O'Keefe
, Art Director for Spider-Man: Into the Spiderverse. Patrick displays Miles doing what he does best in the good 'ole streets of New York! Next up is a Spider-Gwen #5 Variant by Spanish Artist and Illustrator,
David Aja!
His use of colors and a bit of ink spatter are pulled off perfectly to display our Hero, Spider-Gwen in an acrobatic action pose. Love it! And as if these two pieces of fantastic art aren't enough for all of you Spidey fans out there, we also brought out a little something for the symbiote lover in all of us by featuring the magnificent cover art by Comic Book Artist and Illustrator,
Clayton Crain.
This monster of a print culminated from a total of 5 Variant connecting covers from the popular Venomverse story and includes over 20 different Venom characters to have appeared throughout Marvel's history! All prints are fine art giclees, printed on acid-free paper with archival inks for you to hang on your wall and admire!
Miles Morales, Spider-Gwen, & Venomverse
Go On Sale Thursday, May 28th
@ 1 PM ET in the
GMA Shop!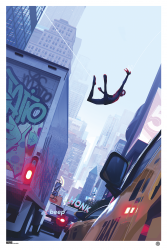 Miles Morales: Spider-Man #7
by
Patrick O'Keefe
16" x 24" Fine-Art Giclee (Hot Press Bright)
Edition of 125
Printed by Grey Matter Printing
$45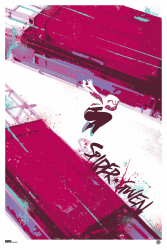 Spider-Gwen #5 Variant
by
David Aja
16" x 24" Fine-Art Giclee (Hot Press Bright)
Edition of 125
Printed by Grey Matter Printing
$45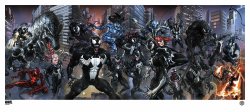 Venomverse Variant #1-5 Variant
by
Clayton Crain
36" x 16" Fine-Art Giclee (Cold Press Natural)
Edition of 150
Printed by Grey Matter Printing
$50