Super Moderator
Super Moderator
Premium Supporter
Greetings, everyone! Hoping you're all still hanging in there and passing the time in positive ways. We have a really fun release this week for all you fans that love blood, guns, muscles, and great one-liners! GMA is very pleased to feature one of our all-time favorite movies from the '80s, the 1987 science-fiction action film, Predator by Spanish artist & illustrator,
Cristian Eres!
This gorgeous Limited Edition poster design comes as a 24x36 inch Screen-Print.
Predator by Cristian Eres Goes On Sale Tomorrow, April 16th @ 1 PM ET in the GMA Shop!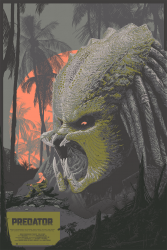 Predator
by Cristian Eres
24" x 36" Hand-Numbered Screen-Print
Edition of 125
Printed by D&L Screen Printing
$45
(Estimated Shipping 6-8 weeks)