Super Moderator
Super Moderator
Premium Supporter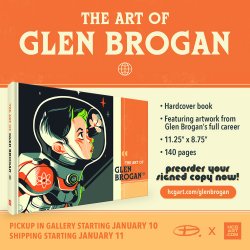 In conjunction with
Glen Brogan's upcoming
Pinups 2
exhibition in January 2020,
we are pleased to announce the release of Glen's new book:
The Art of Glen Brogan
Featuring Artwork Spanning Glen's Full Career
Hardcover Book
140 Pages
$35
ORDER YOUR BOOK TODAY TO GET IT SIGNED BY GLEN!
Browse through our collection of high-quality screen printed posters, archival giclee prints and original artwork of your favorite movies, films, TV shows, games, comics, and more! All designed and illustrated by independent artists around the world for you to take home today.
hcgart.com