Super Moderator
Super Moderator
Premium Supporter
Today marks the anniversary of John Carpenter's The Thing being released in UK cinemas, and what is an anniversary without a print to celebrate?
The Thing is a title that has had its fair share of amazing prints. It's a film we always love to see how artists interpret. For this release Nan Lawson has added her own unique interpretation to that list with this latest officially licensed release.
Continuing the series she started with our Amblin set, this piece, part of our Editions line will be released today, Thursday August 26th, at 6pm BST/ 1pm EST on our homepage!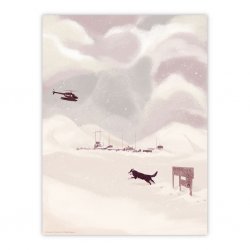 The Thing by Nan Lawson
Size: 12x16 inches each
Vice Press Editions - Open Edition
Medium: Fine Art Pigment Print
Produced under licence from Universal Studios.
£15.99/ Approx $22

Vice Press Exclusive Release