Super Moderator
Super Moderator
Premium Supporter
Greetings, folks! We are always thrilled whenever we feature our newest releases of Marvel's Fine Art Collectibles. We see some of the finest comic artists in the industry creating beautiful and epic cover art that always leaves a lasting impression, and that's why we are so pleased to produce these works as limited edition prints to hang on your wall and admire. This week we are pleased to release the Marvel Legacy #1 Variant and Sketch Variant by world-renown American comic book writer and artist,
Alex Ross
who is well known for his brilliant painted covers and design work. Alex's work on this cover manages to tackle some of the most iconic Super-Hero's in Marvel Comics today and even restores many of the heroes to their classic looks!
Marvel Legacy #1 Variant & Sketch Variant
by Alex Ross Goes On Sale Tomorrow, May 07th @ 1 PM ET in the
GMA Shop
!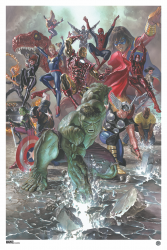 Marvel Legacy #1 Variant
by
Alex Ross
16" x 24" Fine-Art Giclee (Hot Press Bright)
Edition of 100
Printed by Grey Matter Printing
$45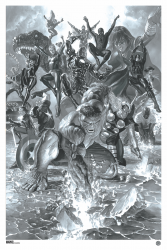 Marvel Legacy #1 Sketch Variant
by
Alex Ross
16" x 24" Fine-Art Giclee (Hot Press Bright)
Edition of 40
Printed by Grey Matter Printing
$50
Marvel Legacy #1 Variant & Sketch Variant Matching Number Set
by
Alex Ross
16" x 24" Fine-Art Giclee (Hot Press Bright)
Edition of 100 (Marvel Legacy Variant)
Edition of 40 (Marvel Legacy Sketch Variant)
Printed by Grey Matter Printing
$85